Persia, the Applicant Tracking System
Recruitment automation service. Powerful and easy to use.
Persia is an Applicant Tracking System (ATS) that automates recruiters' everyday job.
Screen Interactive completely developed this SaaS (Software as a service) project from the initial idea and prototyping up to full design and development, launch, maintenance, and customer support.
Persia helps recruiters to store applicant CVs received from different sources in a private database. It stores history of all interactions with candidates, helps to organize work of a recruiting team. As a result, it makes recruiters' work more efficient, transparent and accountable.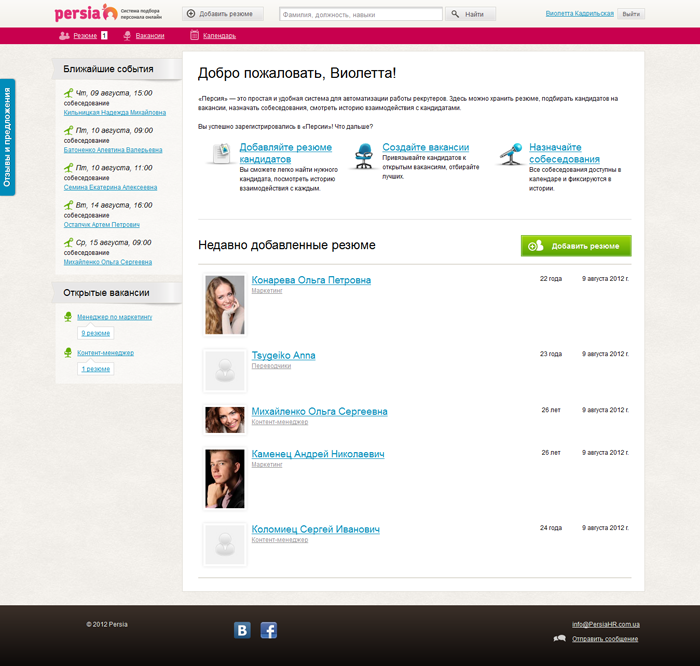 Persia offers several ways of adding CVs into the system:
–

upload the files from a hard drive

–

send an e-mail message with an attached CV to your personal address in Persia. Incoming messages from candidates can be forwarded directly to the system

–

copy and paste a CV out from any job search website

–

bulk uploads from a zip-archive.
If a candidate already exists in the database, the system will inform the recruiter immediately and ask whether to replace a candidate's old CV or save as a new one. Old CVs are also stored so that recruiters always have access to the entire history.
Persia automatically extracts basic information about a candidate from CV files (resume parsing). So, the recruiter doesn't need to manually fill in all the fields in applicant's resume.
The recruiter can do all the work in a Web browser because all the CVs are shown on Web pages. There's also no need to use desktop office software like MS Office to open and view CV files.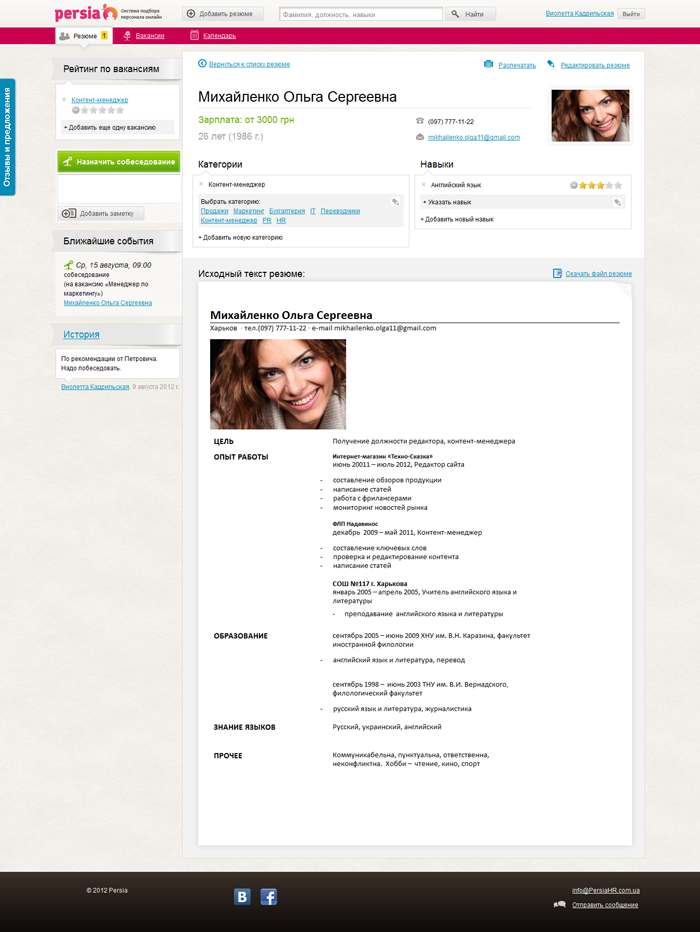 Persia provides a powerful and convenient search for candidates:
–

by text in CVs

–

by skills

–

by categories (Each CV can be linked to several categories at a time.)

–

by old vacancies.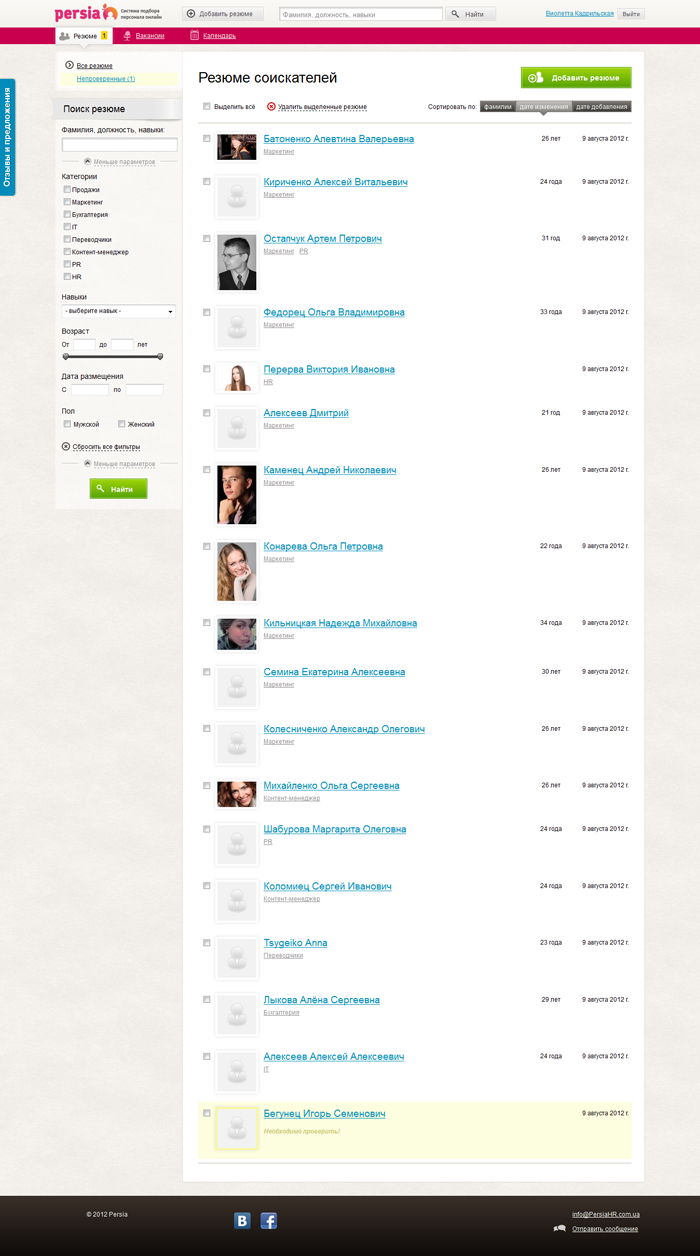 Working with candidates:
–

CVs link to vacancies that have recruitment process stages: from new to hired, so that recruiter can easily find candidates on any stage. If there are a lot of candidates on a stage, the recruiter can also sort them by rating

–

scheduling interviews with notifications to candidates

–

mailing system with customizable letter templates

–

notes and history of changes to candidate's profiles

–

archive of vacancies: You can easily get back to candidates, who applied for a similar vacancy earlier.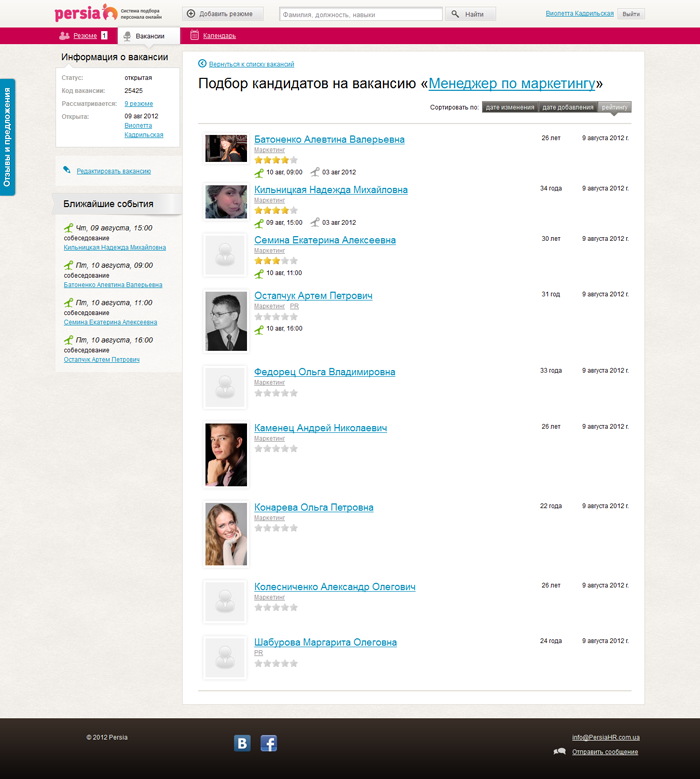 Interviews calendar—a convenient tool for planning your meetings with candidates. And you can send candidate a standard notification letter right away as a reminder about the interview.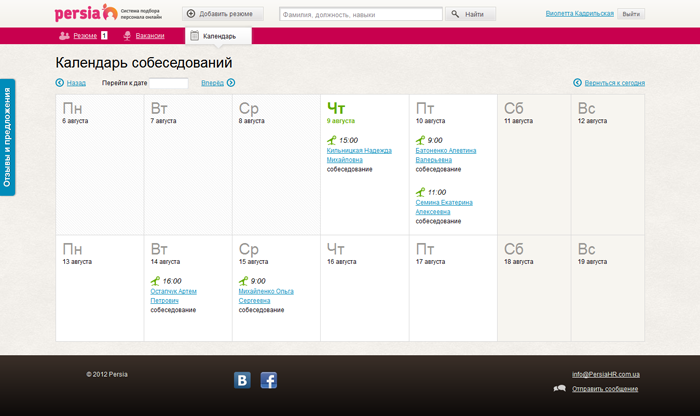 Additional features include:
–

Teamwork. Recruiting team can consist of administrators and recruiters who share one database but have different permissions. Clients—a special type of users who can only monitor work on their vacancies, make notes and change candidates' statuses.

–

Statistics module can measure the recruiters' performance and plan their workload.

–

Integration with LinkedIn. Recruiters can pull candidates' profiles from LinkedIn via API and stored in you database along with CVs.

–

Credit card payments for clients.
Persia is the first specialized Web service for recruiting automation in Ukraine. The major benefits that make Persia surely a worthy alternative for bulky desktop systems are the ability to work through a Web interface, original solutions for adding and viewing candidates and simple and convenient interfaces.
View the Persia case study for more details about main functionality of the system and the process of its creation.