Jobs in Kharkov, regional job portal
Jobs in Kharkov is the best Internet service for job search and recruitment in Kharkov.
Jobs in Kharkov is the number 1 Web service for job search and recruitment in Kharkov. Since 2000 when the site was launched we have actively developed, expanded and improved its functionality. Today Jobs in Kharkov is the most popular regional job search website in Ukraine.
In the new version we have created a new, modern and more functional design and introduced new features for users. However, we have tried to keep the appearance clear and convenient for all our users, no matter whether they're regulars or newbies. Thousands of people use the site to find new jobs and even find a career. It's an open secret that many HR managers visit the Jobs in Kharkov website as a part of their everyday routine.
Jobs in Kharkov, Main page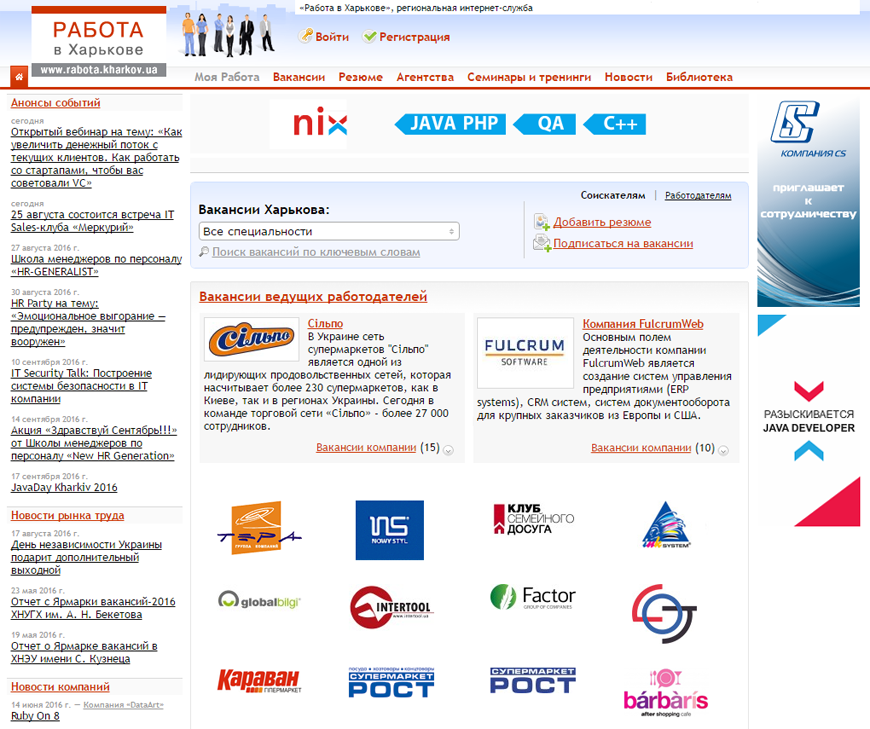 The website is built upon our proprietary ScreenJet content management system (ScreenMarket edition), which allows users to take part in creating content for the site.
Main functionality:
–

Several types of users: applicants and companies. Companies devide into direct employers or recruiting agencies. Different types of users have different permissions and features available. Companies can also have a paid account with additional functionality.

–

"My job"—applicants and employers can manage all their information posted on the site from this section. The lists of favorite resumes or vacancies as well as subscription are also operable from here.

–

Vacancies and resumes—the most important module on a job search website. Registered users can add, delete, edit, temporary hide and update their vacancies and resumes.

–

Powerful and convenient search of resumes and job ads. The autocomplete feature is available while searching. When a user starts typing a search request, the system offers the list of most popular similar requests. Jobs in Kharkov was the first job-searching website in Ukraine to introduce such a feature.

–

Fully updated search result pages. Now there are two ways of displaying vacancies and resumes in a search results list: full text version or only headings. Users can choose the most convenient way for them, and the website will save their choice for next session.

–

Favorite vacancies and resumes. Users can add resumes or job ads in a list of favorites.

–

We significantly improved the subscription feature. You can now subscribe for new vacancies and resumes right from the search results page just by saving the search terms. It's possible also to track the new resumes and vacancies through the saved search on the site, by e-mail or via RSS subscription.

–

Paid services are available: Hot job ads and featured companies for employers and VIP resumes for employees (payment by SMS).

–

Internal messaging system. Applicants can apply for an open position by sending a resume. Employers in turn can offer vacancies to applicants. Both sides can continue communication through internal messaging system. The system also includes messages from the site administrator and inquiries for trainings. All the received job ads and resumes are saved in a website database and are available for registered users at anytime.

–

We also updated the courses and trainings section. Registered companies can post, edit, update and delete all the information about their trainings or courses. We revised the system to group all events by categories too. An interested person can send the request to participate in an event from the site.
At the same time users still can search, view and post job ads and resumes without registering on the site.
Jobs in Kharkov. The list of resumes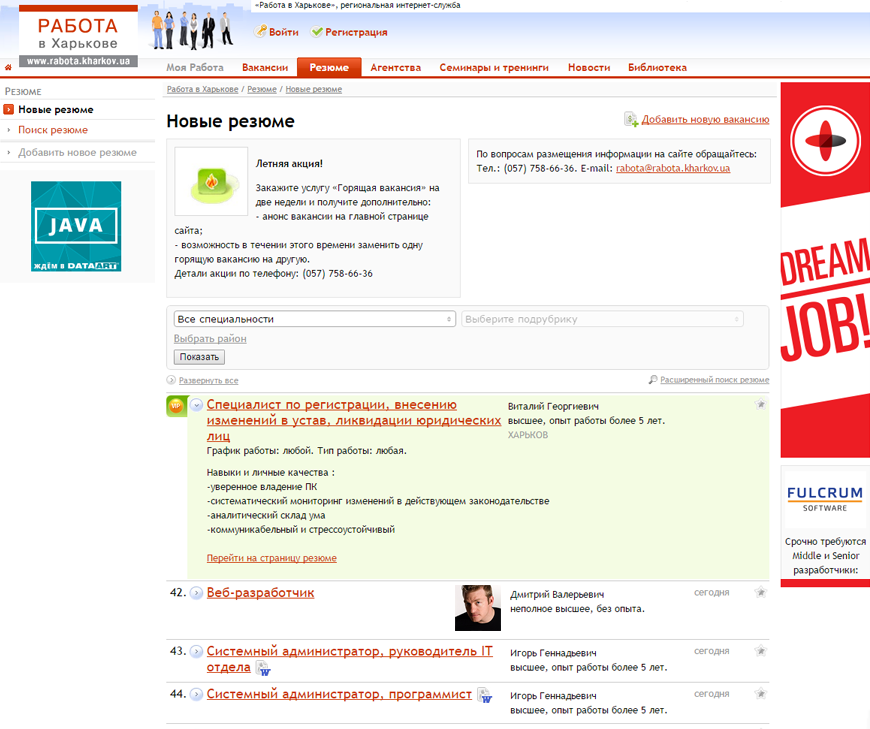 The website also uses standard ScreenJet CMS modules such as:
–

News module. Four news streams are available. Users of some types can to post their news.

–

Internal banner system. Depending on a target audience some can post banners on the main page, in different sections of all website pages and even in some categories of job ads/resume database for better targeting.

–

Files repository. Recruiters can manage files through a special interface. Links to the files may are easy to add to website pages and attached to subscription letters.

–

Polls. Website administrators can also create polls.
RSS is widely used to export periodically updated information (news, vacancies, resumes). There are additional features for export: Yandex widget, iGoogle and Google Desktop gadgets, informers.
The website is being constantly updated as we continue to add new useful features all the time.
The new version of the website is, first of all, a basis for implementing further plans for the service's development.