KODA corporate website
One of Ukraine's leading companies in the measurement appliances market.
The joint Ukrainian-American venture KODA sells and maintains measuring equipment of the world's leading manufacturers and also produces its own industrial measuring systems. KODA is one of the leading companies in the measurement appliances market of Ukraine. The company's motto: "Precisely" reflects their competence field and approach.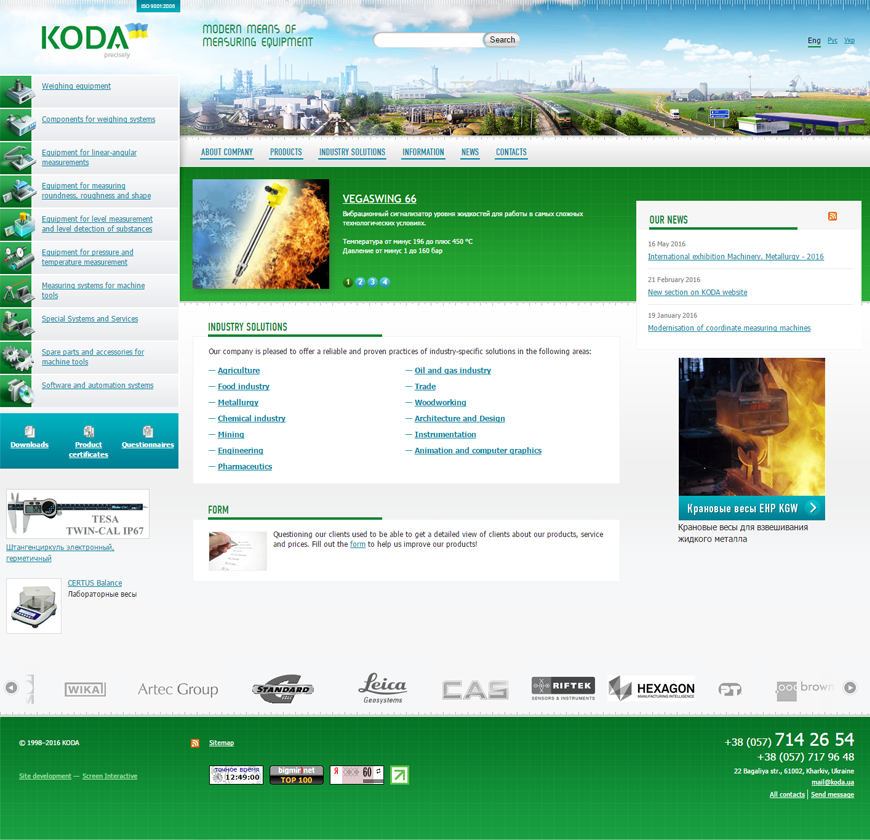 The product catalog is the main part of the website content. It includes hundreds of product descriptions with illustrations and technical specifications. The catalog interlinks with a file archive, where interested parties can find additional technical information about products, price lists, user manuals, etc. All files are in one section "Downloads" and group by producers. So, users can easily find and download any necessary user manual or product description.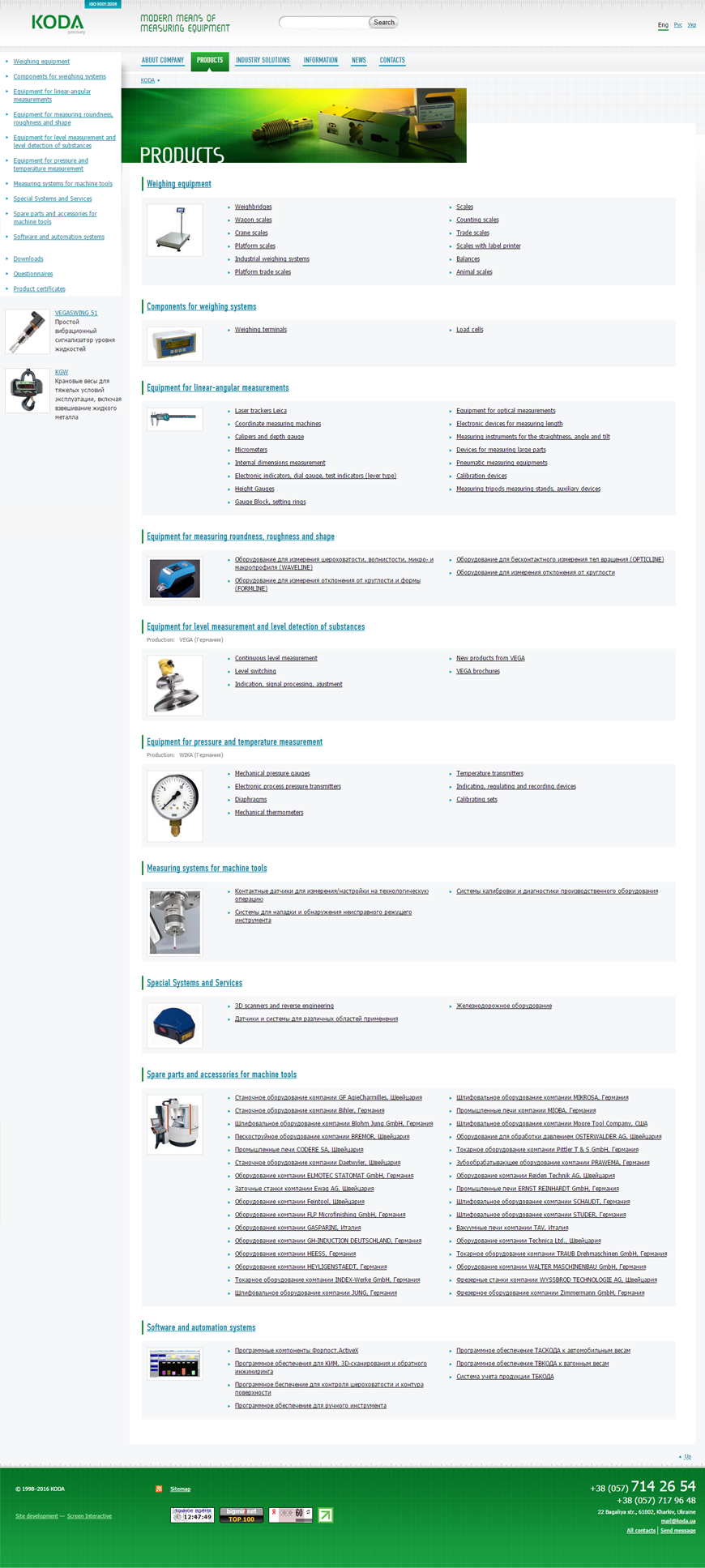 All information, including texts, images, technical characteristics, user manuals and additional materials about products are on product description pages. Also, users can place an order right here, there's no need to leave the page.
The product description page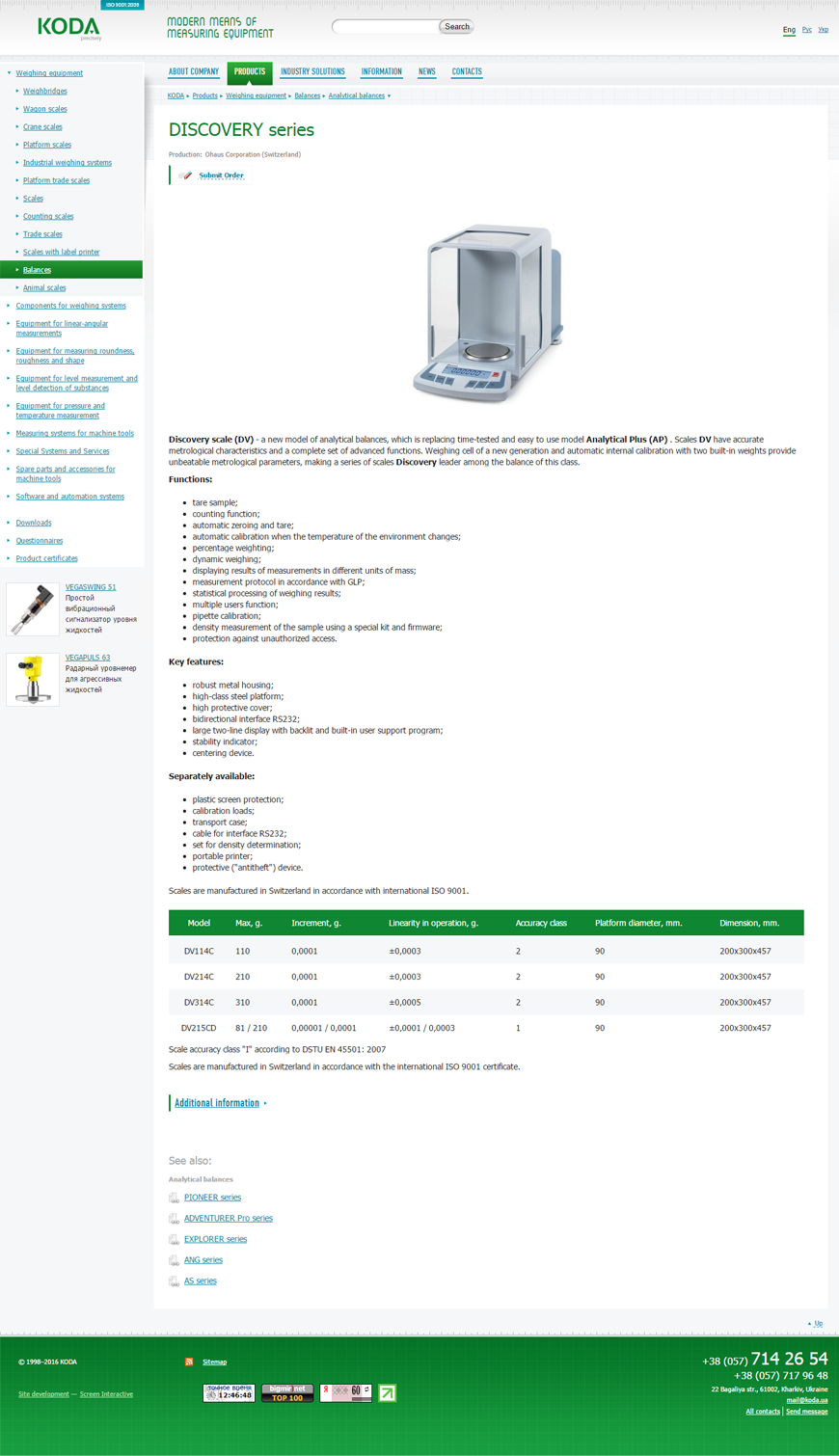 We created unique illustrations dedicated to different product groups for all inner sections of the website.











The website uses an updated content management system ScreenJet. Besides the basic features the following functionality are on the website:
–

News module. It allows preparing news for publication, managing the news stream and news archive on the site. RSS format exports periodically updated news.

–

Subscriptions module. It makes sending newsletters to subscribers, managing the list of subscribers and creating an unlimited number of newsletters possible. Users also can change their subscriptions.

–

Files repository. Users can manage files through a special back-end interface. Links to files are easy to add on any website page or attached to a newsletter.

–

MS Excel spreadsheets. They automatically convert to HTML tables for proper display on the site's pages.

–

Polls. The polls builder allows the use of different types of questions.

–

Internal banner system.

–

Search module. Full-text search with the support of Russian and English morphology.

–

Three languages. The website has three full language versions: Russian, Ukrainian and English.
The ScreenJet content management system allows KODA company employees to fill the website with content on their own.
KODA has used previous versions of the website, also developed by Screen Interactive, for almost eight years.