ScreenJet content management system
ScreenJet content management system (CMS) is a result of several years of our work in Web development and creation of large websites with regularly updated content. It allows us to simplify the work on content and site maintenance and to entrust this work to the client company. As a result, updating the content is significantly faster and costs less.
A convenient administrative Web-interface that does not require administrators to have programming or hypertext coding skills, working with files by FTP management site content and interactive features. The ability to work with popular office programs is enough.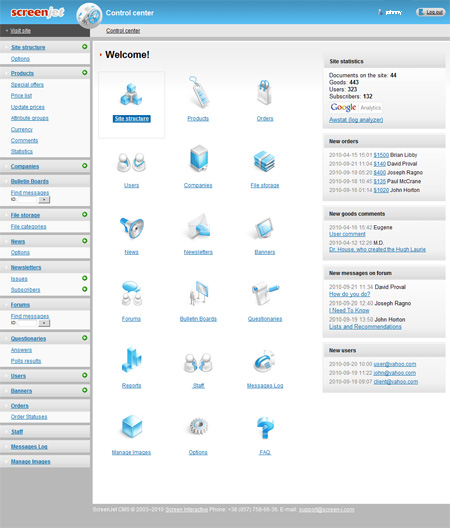 ScreenJet allows management of an unlimited number of text documents on the site and includes program modules in the site structure. The modules are either standard or created especially for your project.
Main features of the system
–

Convenient tools for drafting and editing documents. The visual editor helps to create pages that contain formatted text, tables, images, links, etc. Ability to create documents based on predefined templates and preview function simplify administrator's work.

–

Site structure management. Site's content pages and functional modules integrate into one common structure. Administrators can create, edit, move, rename, hide or show, change order of particular pages or whole site sections, adjust navigation. The system creates menus and sitemap automatically.
Additional features
–

Multilanguage support can create several language versions of the site.

–

Teamwork support. Several administrators (editors) will have individual privileges to manage their areas of the site.
ScreenJet has a modular structure. The following specialized functional modules can integrate into the system:
Admin interface
–

User registration. Registered users can get access to additional information (texts, files) and functions (for example, e-mail newsletter subscription)

–

News

–

ability to prepare news for publication, including visual editing

–

automatic support of one or more news feeds and the site's news archive

–

creation of news announcements to send to subscribers as a newsletter

–

RSS feed

–

Newsletter subscription

–

unlimited number of newsletters

–

subscribers list management

–

special site page where the subscribers can change the set of newsletters they subscribe to

–

File storage

–

a collection of files used in the website content (price lists, product descriptions, technical specifications, advertising materials, etc.)

–

Web-interface to manage all the files

–

links to the files are easy to add to the site pages or included in the newsletters

–

Forums

–

management of an unlimited number of forums on the site

–

discussion threads can display as message lists or trees

–

moderation

–

moving of individual messages and whole discussion branches anywhere in the forum or to another forum

–

Website banner system

–

banners that advertise different pages on the site or other websites

–

Print version of the documents

–

printer-friendly form of all the website's pages
The number of standard modules is constantly growing. At the same time we continue to modify and improve the existing solutions. The system's architecture can include new, individually developed modules, such as complicated product catalogs, e-commerce features, information converters from the formats already in use (MS Excel as an example), etc. Some useful utilities (information archiving, log of messages sent through the site, management of meta-tags, etc.) are included in the system by default.
Flexibility and scalability of the ScreenJet CMS allows us to create websites that are ready for the content to grow and for further functionality development in the future.
ScreenJet in ready-to-use form contains all the features necessary for most corporate and information sites.
Are you planning to create a new site or upgrade an existing site? Call us +38 (057) 705-61-31 or send us your request through the "Contact us" form.